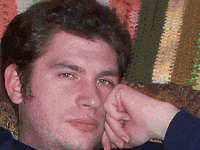 By Nelson Schneider - 11/05/17 at 02:05 PM CT
Quite some time ago, I addressed the concept of DRM and praised 'pirates,' those anonymous hackers who strip DRM out of videogames and distribute them in gray/black channels for free, as saviors of old games – truly elite archivists whose preservation of gaming culture far outweighs the small financial damages their activities cause immediately. In the intervening years since I first wrote about pirates and DRM in 2011, a number of smaller developers seem to have come around to this more enlightened way of thinking. Instead of fighting pirates, they're using pirates and torrent sites as an advertising venue.

Most recently in August of this year, developer Acid Wizard released their game, "Darkwood," on The Pirate Bay (the galaxy's most resilient BitTorrent tracker). "Darkwood" joins a long succession of games that have been 'officially torrented' by their makers, including "HFHO2," and "Hotline Miami." Other developers have taken a more duplicitous route in torrenting their own products, adding either tongue-in-cheek (but inconsequential) visual changes (e.g., every character has an eyepatch and pirate hat) as in the 'official torrent' of "No Time to Explain," or simply breaking the game for pirates, such as the ham-fisted moral lesson in "Game Dev Tycoon," in which rampant piracy makes winning impossible, or simply an immortal enemy that prevents all progress past a certain point, as found in titles like mobile SHMUP "Shooting Stars!"

In general, though, it is only smaller, more Indie studios who are willing to play the pirates' own game. Big "AAA" publishers are still pushing for DRM, and they've found a new champion in the fairly-hard-to-crack shell of Denuvo. However, 'fairly-hard-to-crack' does not mean 'impossible-to-crack,' and interestingly, the publishers who use Denuvo to protect their software have shown themselves prone to remove it from the product once the inevitable crack emerges. The "DOOM" reboot, "HITMAN," "RiME," "Mass Effect Andromeda," and "The Evil Within 2" are just a few of the bigger titles that initially released to the public protected by Denuvo, but have since seen that layer of protection quietly disappear.

It seems that, instead of a perpetual lock-down of intellectual property, big publishers are now looking at DRM as a way to protect launch window sales, while effectively ignoring the effects of piracy on the 'long tail' of sales. For digital videogames especially, the long tail period is where the big price drops occur, with discounts reaching the 75%+ off mark (also, typically when I actually start to open my wallet), so perhaps publishers are more willing to take a pragmatic view of 'what sells, sells' during that portion of a game's commercial life. Of course, this could also be a simple market reaction, as Denuvo is supposed to be incredibly expensive, so maintaining a subscription once the protection has been defeated for a given product makes little financial sense.

Regardless, if publishers want to use DRM to protect launch window sales and remove it afterwards, I fully support their endeavors. I'm an unabashed fan of the archival services pirates provide, but that's because they are archival, preserving old games when even the likes of GOG.com can't figure out who the IP rights belong to, simply by ignoring the legal construct of 'IP rights' altogether, but even I don't pirate new games… but I also don't buy into hype and buy games for full price anymore. No exceptions. Unfortunately, with publishers putting all of their metaphorical eggs in the metaphorical launch window basket, they are indeed balancing their entire business model on Hype to drive early, full-priced sales amongst the same easily-influenced market demographic that will spend infinite amounts of money on microtransactions and gambling. I don't know that this practice is sustainable. Or ethical.
Share: