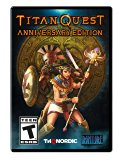 Titan Quest PC (Steam)
An Obvious Diablo Clone 3.5/5 stars
Titan Quest Anniversary Edition is a Diablo clone RPG taking place within Greek mythology. The Anniversary Edition was released in 2016 with an attempt at multiplayer performance improvements, game balancing, and bug fixes.

Presentation:
This game is an overall acceptable attempt at point and click hack 'n slash RPG. The game is laid out as one would expect, and it's easy to dive in and start playing online with others.

Gameplay:
Multiplayer performance still needs work, as the game will start to freeze from time to time, and if you're unlucky, you'll get kicked out. It is tolerable though. Loot drops is by far the worst part of the game, because they are shared when in multiplayer, thus making it impossible to beat click-hungry melee players drooling over the chest. Being a ranged character meant I scavenged over the left over spoils, lucky to find a few gold coins, heath potions, or hand-me-downs. This game desperately needs private dropped loot.

Originality:
This game tries to follow Greek mythology, and does have some interesting enemies. However, with the need to be zoomed out with the third person camera, you never really see the detail everything has. I did like the voice-over narratives of the characters telling the story, but the story itself wasn't overly fascinating.

Replay Value:
There is definitely a grind aspect to the game to get your character leveled up and equipped with better gear. Harder difficulty modes allow for continued play. But it isn't good enough for me to want to partake.

Recommendation:
If you're dying for a multiplayer Diablo-like RPG, it's worthwhile if you've already played the Diablo and Torchlight series.