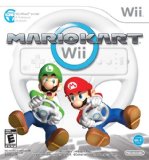 Mario Kart Wii Wii
Taking Mario Kart to the Next Level 5/5 stars
Mario Kart Wii has taken the Mario Kart series to a new level. The addition of the wheel not only took advantage of the Wii's controls, but was a fantastic addition for a racing game. The wheel takes little time to get use to, easy play control. Anyone who plays the game without the wheel is not getting the intended experience and shouldn't play it in my opinion. You guys who play this game with the joystick are stubborn fools who are more set on perfection then having fun and I feel sorry for you.

There are classic levels from previous games, and some new ones as well. It's probably my favorite Rainbow Road, too. The online portion of the game is great and I still play it from time to time. I do wish you could play grand prix's with just your friends and no teams, but I don't consider it a flaw. It is time to get rid of the ink item, though.

Playing 1 player mode gets a bit ridiculous at times. The computer sends way too many blue shells your way and it gets frustrating at times, but as long as your not going after perfection like those joystick fools you can still have a lot of fun.

So to sum it up, a great new experience for Mario Kart with the wheel, so USE IT!