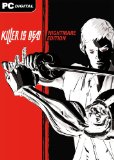 Killer is Dead - Nightmare Edition
PC (Steam)
Might Wanna Poke It With A Stick
3.5/5 stars
Goichi Suda, or Suda51, is a name to recognize in the character action genre. While I myself have not played many, if any of his games, I still have at least heard positive things from titles such as No More Heroes, Shadows of the Damned, and Lollipop Chainsaw just to name a few. Though I must admit, when I first saw Killer Is Dead, I wasn't to...