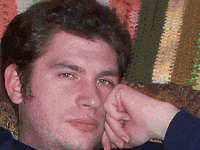 By Nelson Schneider - 04/22/18 at 03:14 PM CT
I've been a fan of the Enhanced Steam browser plug-in for nearly as long as I've been using Steam. I admit, however, that, like with most fancy, multi-function software, I don't use even close to all of Enhanced Steam's features.

However, while browsing Steam recently, one of Enhanced Steam's features caught my eye and really threw me for a loop. By mousing-over the little globe icon next to a game's price, Enhanced Steam will reveal how much it costs in other parts of the world in those countries' regional currencies, as well as whether or not the game is available in a given region at all. Naturally, I was unsurprised to find several Japanese games from my test sample that aren't available for purchase in Japan, but I was surprised to see just what a massive discount Steam offers on games purchased in Russian Rubles.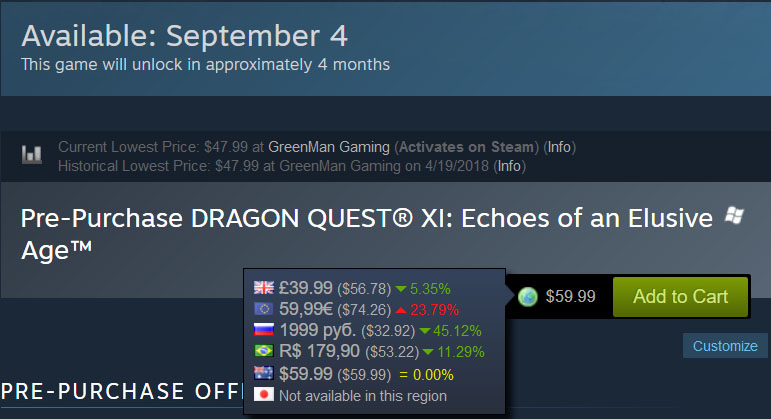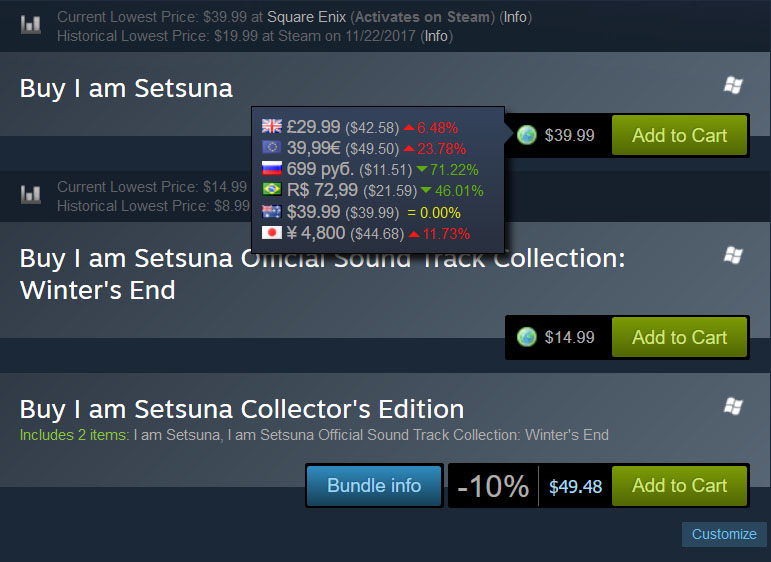 As illustrated in the above screen captures, Russian gamers who pre-order the upcoming "Dragon Quest 11" will get it for 45% off of what Valve's fellow Americans would normally have to pay. Likewise, Russians who want to buy the not-quite-2-year-old "I Am Setsuna" can get it for a piddly 700 руб, over 70% off what Americans have to pay, and a bigger discount than even the best historical sale price for that title outside of Russia. And those are both full price, not discounts! This leads me to wonder two things: Why are videogame publishers willing to sell their products in regions where they get paid so much less for each unit sold; and why, if videogame publishers are happy receiving this lesser amount for each unit sold, is it not the worldwide base price? We see time and time again that publishers cry that new games are too expensive to make and sell for $60 a pop, but apparently they're okay selling them for 2000 руб a pop.

Regional pricing is not a new thing, but with the rise of online marketplaces that see customers from all over the world shopping at the same virtual store, the average person is running into it more and more frequently. Top-tier Steam competitor, GOG.com, even tried to do the regional pricing shtick back in 2014, but after 8000+ upvotes on a GOG Wishlist item to get rid of it, they backed down and went back to flat, worldwide pricing that only considers currency conversion rates instead of offering wildly different prices based on some cynical idea of what customers in a specific region of the world 'can' pay.

Regional pricing is, of course, the spawn of unchecked crony Capitalism. The so-called 'Hidden Hand' that regulates supply and demand also determines how much disposable income exists in each country, and charges for luxury, recreational items, like videogames, based on that predicted amount. Yet this willingness to accept much less money for the same product based on location flies in the face of customer rights, as – specifically with software – it is typically somehow 'illegal' to buy software licenses in regions other than one's home region. If one store offers a product for a price, and another store – even if it's part of the same chain – offers the same product for a significantly lesser price, customers should have the right to 'travel' – even virtually – to the store with the cheaper product to make their purchase. The cheaper product should fly off the 'shelves' while the more costly version lingers, unpurchased. Then the more expensive version should go down in price, while the cheaper version rises in price, with supply and demand ultimately forcing the price to meet somewhere in the middle, for everyone. At least, that's how Capitalism is supposed to work, when it isn't couched in a corrupt system of exploitative laws and regulations that weight every transaction in favor of enormous corporate entities with swarms of lawyers and pocketsful of politicians.

Seeing how much cheaper these Russian Steam games are is quite disheartening. If "Dragon Quest 11" was available for pre-order for $33 here in Trump Land, you bet your ass I'd pre-order it and start playing on Day 1 instead of waffling around and waiting for a decent sale a year-and-a-half later. I still don't own "I Am Setsuna," but if I could get it for $11.50, I certainly would. It almost makes me want to subscribe to a VPN so I could region spoof my way into Putin Land to buy some Steam games before returning home to my own ridiculous dictator.
Share: