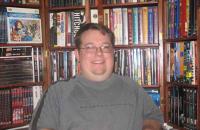 Chris Kavan - wrote on 03/12/11 at 05:47 PM CT
Congratulations! You've found the blog - sorry, you don't win anything yet. On behalf of Alex, Nelson, Nick and myself, thank you for signing up and taking time to help us out with our video game social networking venture.

If you've already got started and rated and reviewed a few games, that's great. Make sure to update your profile: I want to know what you like, and what you hate. If you thi...