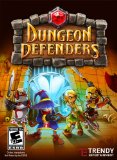 Dungeon Defenders PC (Steam)
The Best Indie Game I've Ever Played 4.5/5 stars
Story:
Save the land of Etheria from an ancient evil. The story is a bit more in depth than that, but since this game is based around levels/maps, the progression of the story doesn't play a big role in this game. Basically, the creatures and power of the Old One was locked into crystals. An ancient evil comes to break open the crystals and release the evil back into the world. You goal is to protect the crystals at all costs, by playing a series of maps, each containing these crystals. If you buy the DLC for this game, which you most definitely should, you'll get to play an additional story of the Quest for the Lost Eternia Shards. There are four lost shards, and once collected, you can enter the mystical Crystalline Dimension and defeat the ultimate boss known as the Old One.

Presentation:
This game is an indie game built using the Unreal Engine. Trendy Entertainment did a good job of utilizing this engine in a new, interesting way, making a tower defense game combined with RPG hack 'n slash. The graphics are great, everything has a cartoony feel with vibrant colors, unlike many uses of the Unreal Engine with first person shooters in which everything is made to look as real as possible, using only browns and greys. The tavern keep in this game, who manages the store, loves to make random jokes, one of which is "brown is real", a direct stab at other games.

Gameplay:
As mentioned above, this game combines tower defense, which is a relatively new genre, with RPG hack 'n slash. On each map in the game, you get a build phase, and a combat phase. During the build phase, you build defenses to defend the Eternia crystals. During the combat phase the enemies come out, trying to break the crystals. You run around the map with your character repairing and building new defenses on the fly, as well as attack the enemies directly using weapons and various skills, just like a hack 'n slash game.

The game has 5 difficulty modes to play on (easy, medium, hard, insane, nightmare) so you never get bored. Each difficulty adds more challenge, but also allows you to unlock more goodies for later on. One things to note, Nightmare difficulty was added to the game later on, and is not balanced as well as the other difficulty modes. In fact, Nightmare takes a huge jump up in difficulty compared to Insane, and was merely added for elite players wanting a real challenge. Once you get addicted to this game, you'll be playing solely on Nightmare, if you can bridge the gap from insane, which takes quite a while. Prepare to dump many hours into this game, replaying levels trying to get random item drops to improve your weapons and armor. One thing this game gets criticized on is the random number generator, which is set to very rarely spit out high-end gear (transcendent, supreme, ultimate, ultimate+, and ultimate++), gear that you'll need to beat the Eternia Shards DLC on nightmare difficulty.

Dungeon Defenders originally came out with four main character classes to choose from, Squire, Apprentice, Huntress, and Monk. Each of these characters can build different defenses, and as you play the game, you'll realize you need a combination of defenses to beat the various maps. This game can be played solo, and can provide plenty of enjoyment, but really shines when you play online with friends (up to four on most maps, with a few maps allowing six). When playing with a groups of friends, you're able to accomplish a lot more, and build defenses more effectively, as the timer during the build phase can be a hindrance when playing solo. This game has plenty of DLC, including additional characters classes. If you buy the DLC, you can also play as a Countess, Adept, Ranger, or Initiate. These four additional classes are simply gender-swapped equivalents of the base characters, with slight difference in skills, speed, and HP. Where the game gets interesting is in the final four DLC character classes that were added. You can also play as a Barbarian, Series EV, Jester, or a Summoner. The game gets some criticism in this respect as well, cause on nightmare difficulty you most certainly want the Barbarian, Series EV, and Summoner, as they provide high end melee damage (Barbarian), and much needed defenses from Series EV and the Summoner. The Summoner is the most unique character, you can summon minions to guard the crystals, and you get extra defense units to use, doubling the total number available on the map. Some people may say the Summoner is pay-to-win, but I wouldn't go that far, but you'll definitely want the Summoner in your repertoire. The Summoner has a numerous commands to control summoned minions, getting very in depth with tower defense strategies. However, these commands were not fully thought through well by the developers, and you will end up only using 'hold position defensive', creating minion lines to protect the crystals.

Originality:
Overall, the game play is great, providing lots of challenge, enough so that I can set aside some of the balance issues and rare item drops you need to progress. Due to these issues, you do end up getting a lot more play time from this game then what you normally would, which is completely ok, because this is a great game to play with friends. The tower defense combined with RPG hack 'n slash makes for one of the best thought up ideas in recent years.

Replay Value:
The replay value is extremely high in this game, as mentioned above, mainly due to the rarity of items drops on harder difficulties. But with all the different characters you can choose from, you'll never get bored. There are also countless weapons and armor you can get, as well as many ways you can divide up skill points when leveling up, definitely adding to the RPG style aspects of the game. You'll find out quickly, that you'll need specific weapons and armor for your specific character to get the most out of him/her.

Recommendation:
If you don't own this game you should. If timed right, you can pick this game up on Steam really cheap during a sale, including all the DLC. For such a low price vs. play time ratio, you will get a lot out of this game. If you easily get frustrated with the higher difficulties, you will find that you can mod weapons (cheating), and get through the game more easily. But in doing so I think you lose what this game is all about, so I strongly encourage you to ignore that urge at all costs. If this game was balanced a little better, and didn't force you into having use specific defenses and characters to beat the harder levels, I would have given this game a 5/5 star ranking.