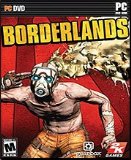 Borderlands PC (Steam)
The Most Popular Buggy Game You Can Buy 3/5 stars
Story:
A trip to the planet Pandora turns into a mission to locate an alien vault possibly containing treasures. Coming across tape recordings that yields more clues to the vault, the Borderlands characters venture forward because they have apparently nothing better to do. The story is pretty vague, and there was probably a lot more to it than I can remember, but due to endless side quests where many have nothing to do with the main story line, one can easily understand forgetting what this game is all about.

Presentation:
This game is built using the Unreal Engine, and a very simplistic use of it. Graphical assets are all very similar, offering very little change from area to area. Many of the graphics are quite grainy and pixelated up close, and are reused throughout the game. I understand Pandora itself is supposed to be pretty much a barren wasteland, but that seems like just a cop-out to make the graphical assets the way they did. Everything is brown and grey, with a bit of comic book nature to them. Gearbox Software could of spent more time in this area to make the game much more graphically appealing.

Gameplay:
The game play physics are pretty good, there are no problems with character control or weapon use. Weapon types and their spreads and scoping capabilities make sense, providing a good first person shooter experience. Even the aiming wobble and recoil is accurate and provides additional challenge, as long as you don't cheat and bypass this functionality. One gripe is I wish the map was easier to bring up and use. They could have used an overlay of some sort so your not stuck with stopping all the time just to bring up your map to see where to go, which is continuous in this game due to never-ending side quests, which often involve simple tasks like going and pushing a button, or collecting items, all of which are very simplistic uses of the Unreal Engine. The side quest nature of this game adds play time, but the side quests get very repetitive and boring, especially when you have to run or drive though the same area over and over and over and over... and over again.

Bugs:
This game is so buggy, it gets its own special section so I can point out everything.

When playing online multiplayer, the game can crash at any given moment, which seems like it was a built-in feature to provide more play time. Why this was never addressed and fixed properly boggles my mind.


Slain enemies can randomly float in mid-air. Maybe that is part of the mystical nature of Pandora? I doubt it.


When going through a side quest, like collecting items, if you collect the items out-of-order, the item markers on the map gets screwed up and provides no useful input of where the items are anymore. Maybe the developers wanted to make things more challenging? Yeah right.


When playing online multiplayer, open quests can get screwed up and not marked completed correctly, even though you did in fact complete the quest with your friends. Then you are stuck with a quest you cannot complete, unless you go play the game solo at a later date and go and re-do the quest. This is very buggy and annoying to say the least.


When playing online multiplayer, it is possible to complete quests out-of-order, even when an earlier quest directly affects future quests. This causes a lot of confusion in the story line, with what little story and dialog there is to begin with.


And, the best for last. The PC version of this game refuses to show on-screen Xbox controller button scheme when you are using a controller in this game, even though this game was originally a console game. So you are forced to convert in your head the keyboard button prompts to what button you use on the controller. How did Gearbox Software miss this one? Really?

Originality:
Everything as whole makes this game unique in its own respect. The multiplayer nature of the game combined with comic book style cut scenes, makes this game stand out. The DLC additions to the game doubles the value, as the base game is pretty bland, but the additional story lines provided by the DLC makes it worth the while. Even all the bugs themselves makes this game stand out, but I'm not sure if that is a good thing or not.

Replay Value:
After beating the game, you can play though the game again, maxing out our character level and collecting the best weapons available for all you hoarders out there. There are also four characters, each with different skill sets, offering addition challenge and play time. If you don't mind the repetitive nature of the all the side quests, replay value is good.

Recommendation:
If you like first person shooters, and have never played Borderlands, try it out. Borderlands is a cheap buy on Steam, including all the DLC, making it worth your while. If I would have paid full console price for the game, then DLC costs on top of that, I would have been quite disappointed, as this game is not perfect by any means, and is still full of bugs.