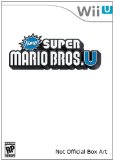 New Super Mario Bros. U Wii U
Boilerplate From The Wii 4/5 stars
Story:
Anyone expecting a new, interesting story with a plot twist will be very disappointed. This is the classic story, Bowser kidnaps the princess, and Mario and Luigi have to go through 8 worlds to save her. Sticking to roots is good, but come on, Nintendo could add something interesting.

Presentation:
The graphics look identical to the Wii version, the quality is a bit better since the Wii U is 1080P. But this game definitely used the same graphics as the Wii version, so Nintendo could easily spit out this new game for the Wii U. With that in mind, why didn't they spit this out for the Wii, and have third one for the Wii U? Reusing the graphics and gaming engine should make it really simple to spit out these game much faster than Nintendo does in reality. With that said, the presentation is nothing to complain about and welcome sight for the Mario game.

Gameplay:
The game play physics have remained unchanged from the Wii version, so learning new skills won't be necessary. The only extensions to this game is are a couple new power-ups, and a new play mode used only on the new Wii U gamepad. The player using the game pad can tap the screen and add temporary blocks for other players to jump on. Almost like a cheater mode, this can only be used in multi-player scenarios. These additions don't really add much to the game, overall it is a clone from the Wii version.

Originality:
Simply said, this game has no originality what-so-ever, it is simply a boilerplate template of story, gameplay, and graphics as the Wii version, just with new levels. Which is mostly expected of course, cause the game provided several hours of fun as a 2-D platformer game should. But if you're expecting something new and fun, you'll be disappointed.

Replay Value:
As with any 2-D platformer, there is some replay value, but not as much as one would like. Once you beat these type of games, you feel a sense of accomplishment for getting through some the harder levels, and many times, don't want to have to go through that nonsense again. However, the replay value comes when you want to play through by yourself, then with friends, and then again to find all the secrets, including finding all three star coins in each level. Completing every single aspect can add several more hours to the game, and provides a fairly moderate level of difficulty to add challenge to the game.

Recommendation:
My recommendation is to definitely buy this game if you own a Wii U. But don't buy a Wii U just to own this game. You can get the exact same enjoyment from the Wii version.