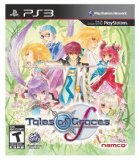 Tales of Graces f PlayStation 3
Tales of Graces f is for Failure, not Fancy or Fun 1.5/5 stars
Story:
Tales of Graces f is another game in a line of other Tales games. I consider it a low-end RPG, that attracts players that are in love with anime and manga. Your team of heros are all kids to start out with, Asbel being the main character. After the incredibly long prologue you become teenagers, aside from Malik, who is Asbel's instructor and joins the team later on. The story is your typical evil is taking over the world that your inexperienced and naive team must save. Overall, the story is predictable and lacks originality.

Presentation:
The graphics are ok at best, landscapes are often copied and pasted and can make traveling through different areas boring, as well as get you lost in certain areas. Enemies lack details due to the overhead action style combat where everything on screen isn't very big. Many story sequences are 2D, to again reflect a more manga experience, but lack the luster you can get with modern day graphic animations. Tales of Graces f is simply running on their old technology, with slightly better polygonal smoothness. As far as dialog, plot, and story, it is terrible. The characters are so naive and gullible, it makes you cringe. At times it is humorous, but most of the time you just have to shake your head and try to ignore how bad it really is.

Gameplay:
Gameplay isn't bad, if you like button smashing as primary means of defeating enemies in battle sequences. There are ways to perform different moves, but overall this doesn't make a big impact in dealing damage. Basically you either button smash for attack, or button smash for magic, overly simple, with not much strategy that I normally expect in RPGs. Please make note, that if you are playing multi-player, the battles are the only thing your friends get to do, other than that, they get to watch player 1 walk around, progress the story, and play around with combining items for hours on end.

Originality:
The game isn't overly original, but does have it's uniqueness when it comes to items. You can combine crystals with weapons and armor to increase your stats. You can also combine various raw foods to make dishes, which is called dualiziing. Dualizing will eat hours and hours of your day, and the countless dishes you create don't make a big impact in your game. I think they added this simply to make the game longer. The ingredients you combine to make a dish in many circumstances don't even make sense, so you know they didn't spend too much time in this area. You should focus on increasing the stats on your weapons and clothing, cause it will make a big difference for your characters. The game also sports a Eleth Mixer, which allows you to either replicate items or get stat boosts using up a magic meter which you recharge at shops. This adds value to the game and is one of the only things that I consider to require some strategy to get the most out of it.

Replay Value:
Unfortunately, none. Unless you love going back and dualizing every kind of food you missed the first time, or getting all the slutty outfits for your characters. There is a DLC that continues the story for a few more hours of gameplay, that I guess is fairly hard, so you may enjoy that if you liked the game first go around.

Recommendation:
My recommendation is to avoid this game at all costs of you are looking for a multi-player game for you and your friends. And if you're buying for a single player experience, only get it if you loved the previous Tales games, and can stand the horrible dialog, predictable story, grade school easy puzzles, and mediocre level of game difficultly.