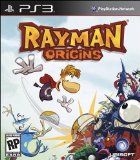 Rayman Origins PlayStation 3
Good Game, Sticking to Platformer Roots 3.5/5 stars
Story:
Rayman is a platformer from a line of other PlayStation Rayman games. Think of Rayman as PlayStation's Mario. This game's story is based on creatures coming from the underworld, and your goal is to rid the land of them, by going through 2D platformer levels. Sticking to 2D platformer levels is the only thing that links it to it's subtitle "Origins".

Presentation:
The game has good graphics, which is pretty easy to do given that it is a platformer. Characters, enemies and objects aren't that big and don't require very much detail, especially since they are 2D.

Gameplay:
The game play is pretty good, jumping seems easier than other platformers where pit death is pretty common. This game sports local multi-player, which is a rarity for today's games. With up to 4 players on the screen, things get pretty treacherous, since you can slap one another and punt them to their death right into a pit. The game starts out easy, but by the end the game is "Nintendo Hard", making it nearly impossible to get through some levels with more than one person playing. Some of the levels are speed levels, so insane, that a veteran platformer would be challenged, to the point that I think it isn't even skill anymore, but luck, pressing the buttons on the controller in perfect sync to not fall to your death or get killed by tentacles. Tentacles are the go to enemy when you want an enemy to be able to do anything to try to kill you.

Originality:
The game isn't very original, but instead sticks to the roots of what a platformer should be, and therefore gets points just for that. The inclusion of multiplayer adds to the enjoyment.

Replay Value:
If you love platformers, this game has decent replay value. If you love a challenge, you'll never truly master this game, some levels will always be hard, and you'll always be challenged no matter how many times you play it. You really aren't playing this game for the story, but to enjoy a 2D platformer, which is harder to find today, where FPS is all too common.

Recommendation:
If you like platformers and "Nintendo Hard" games, get this game for your PlayStation 3. It will give you enjoyment and some frustration on the later levels.