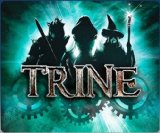 Trine PlayStation Network
Time Killer with Mild Enjoyment 3/5 stars
Trine is an action 2D platformer game with a fantasy theme. In this first release of the Trine series, the only console it was available on was PS3 via the PlayStation Network. This is another cheap indie developed game that supports local cooperative play.

Story:
The Trine gives you the ability to switch between 3 distinct fantasy characters (Wizard, Warrior, and Thief) to go rid the kingdom of the undead that has taken it over and return the kingdom to peace. The story is quite lacking, and not important, but it is a short 2D platformer game, so story is not all that important.

Presentation:
The game has fairly good graphics, the look and feel of the game is little more 3D than what you'd expect for a typical 2D platformer, if this was a main stream game, more time and money would have made this into a 3D platformer, instead of restricting it to just 2 axes. The camera works just fine, since it is a typical 2D platformer, but you can still run into issues just like any other game when playing local multi-player and losing your teammates as you go along. The music and sound effects are also typical, nothing too bad or good enough to stand apart as really good.

Gameplay:
The game play is also very typical, easy to play platformer, where you are jumping over things, getting across pits, and defeating enemies just like any other game. The levels that are vertical (instead of standard horizontal) are a little more picky, and even quite hard when playing multi-player. And since there are several places where you need all three of your characters and use their skills in order to progress through the level, this can get a little frustrating. Some under water swimming is also incorporated, and apparently the warrior sinks like a rock, making it a possible flaw for multi-player game play. I think this game is probably more intended for single player use, where you can switch between the three characters at will to get past the many obstacles you come across during the game where you need to use the skills of each characters to move along.

Originality:
The one original thing about this game is the Trine concept itself. Each character allows for separate skills, all of which you need in order to progress through the game. The Wizard can summon boxes, platforms and bridges using the mana collected to build the physical objects you need to get through the level. The Thief uses a grappling hock type skill to grab hold of anything made of wood to get to places you normally could not. And the Warrior is just there to do the beating, and get rid of the enemies.

Replay Value:
This game really has no replay value. Being a simple 2D platformer, is it hard to want to come back and play it more just to try to collect all the little secret objects you may have missed and didn't see hiding in places like above in trees and rafters. Which is too bad, because this game is quite short and you are left a little unfulfilled. Good thing it is a cheap buy on PSN.

Recommendation:
If you like platformers and fantasy, and have a few hours to kill, pick this game up. It is nothing spectacular, but will give you some mild enjoyment and some frustration on the vertical levels.