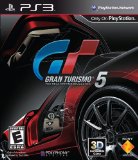 Gran Turismo 5 PlayStation 3
Gran Turismo 5 Is Good, But Could Have Been Great 4/5 stars
With several years of development, Gran Turismo 5 is supposed to be the best racing simulator yet, but parts of the game seemed incomplete, rushed, and not even necessary. And things I'd expect to see that would take it to the next level weren't even present. Gran Turismo 5 includes the typical racing we have come to love, but has now included NASCAR, WRC, and kart racing.

Story:
Gran Turismo is intended to be a racing simulator and there is no real story, but your goal is build up your experience to unlock more tracks, more challenges, and faster cars. A-spec racing is where you want to spend all your time, driving the courses, driving fast cars, and winning gold trophies. B-Spec racing seems to be designed for those who suck at racing games, where you simply coach a virtual driver while they race the car for you. Pretty pointless and a complete waste of time, if you suck at racing games, you wouldn't buy this game in the first place. They shouldn't have B-spec at all, and should have put the development resources into A-spec to make it even better.

Presentation:
The graphics are great. Exactly what you would expect for where we are at with gaming at the moment. One down side, many of the cars are only "standard" cars, meaning, the graphics are not in full detail, very likely copied from the last game, or done to cut corners to get the game out sooner. Your "premium" cars are the high detail cars with multiple racing views available that game developers should have done for every vehicle. The racing music is OK, could be a bit better, but you do have the option of loading your own MP3s onto your PS3 and using those. It does seem like the library playing engine in the game is not random enough, and tends to repeat songs way too much. The music in the lobby and when purchasing cars is terrible, and you'll know what I mean once you play the game a lot.

Gameplay:
The racing is great, the cars all have a very distinctive feel to them, and the physics are good. There are some things that need improvement. When racing the rally courses, the default settings do not work and is not representative of what WRC is. You have to turn traction control completely off, then you can slide around corners like a pro, and hammer out great times. The snow courses for rally racing are simple compared to the gravel ones, something isn't right there. The difficulty is much harder for gravel. The rally racing is pretty good for its first attempt, and the best part are the Sebastien Loeb rally challenges, that's where they did the best. They can ditch the random rally generation courses, your co-driver never tells you turns on time, and the descriptions used aren't quite up to par with how WRC racers really do it. Karting made is debut, and this part of the game seems to have been just thrown in, it isn't a big part of the game, which is good, cause it isn't that great. NASCAR was also new, and was very disappointing. The physics of drafting cars is a little too severe, and car control is lacking. I think using a racing wheel would improve your ability to handle the vehicle, but you can tell the developers didn't spend enough time in this area. It would have been better to leave it out altogether. Jeff Gordon narrates the NASCAR challenges, and it is really, really bad. I'd hope they improve this area for the next go around, or get rid of it. Overall, the new bells and whistles could have been left out so they could have made the original racing we've all come to love even better.

Originality:
This game is the newest in a long line of Gran Turismo games. There is not much for originality, many aspects of the game have not changed at all. They even use all of the original courses, simply redone with the better graphics engine. To make a new Gran Turismo game stand out, they really need to up their game in terms of vehicle features and tuning capabilities. If a vehicle was only sold with an automatic transmission, why can you race the vehicle as a manual without going in and buying a new tranny for it? The same modifications are used for all the vehicles, they should show case more of what is done in the real world, so gamers can truly customize the performance of the vehicle. Right now, if you want a supercharger, choose from three levels and add it. The horse power gain seemed to be a simple formula and not representative of what the performance would be in the real world. The prices are very arbitrarily as well, why not have pricing for vehicles and performance parts more like the real world, this is, after all, a racing simulator. For as long as this game took to come out, I'm disappointed in this area. There was also a lacking of cars you can buy in the dealership area, many of the makes don't have hardly any models to choose from. I don't know if this a licensing issue, but come on, give us everything under the sun, there aren't that many vehicles in the world.

Replay Value:
Replay value for this game is high, it will take a long time to bet bored. There are many challenges that will take quite a bit of time to accomplish, and some that are so hard, you might even need a racing wheel controller in order to accomplish them. The Red Bull X race car is truly amazing, and stretches the laws of physics to the extreme, and your reflexes have to be lightning fast. You can always race with you fiends, either local races or online. This type of game is a great game to have on the shelf cause there is always something to do.

Recommendation:
If you love racing games, this one is a must. I don't think any other racing game can compare, despite several flaws and let downs with this edition.