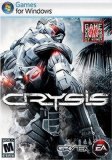 Crysis PC (Steam)
A crysis... for your video card. 4.5/5 stars
I played this game a while ago, so to try and do a full "Full Review" would be a folly. I'll have to settle for a cheater "Full Review" where I type over 350 characters, but leave out plenty of details.

Honestly, there are two things you need to know about this game:

1. The graphics are EXCELLENT. At the time of it's release, this game was a computer-slayer when it was released (and maybe still is), in that it would do things only 1% of the planet's personal computers were able to handle. That being said, the scaled-down graphics still looked excellent. The island the game is set on looked lush and vibrant and the characters looked more lifelike than anything we'd seen in a game to date. Even among people who "don't care about graphics", these graphics could elicit a nod of respect.

And they did more with that engine than just graphics. Smaller buildings and foliage in the game was destructible, meaning that after a firefight you might look around and see you've leveled a small portion of the forest... which was always kind of a cool feeling.

2. This was honestly the first game I personally ever played that could cash that "play any way you want to" check that so many games are fond of now. For most games, that means obvious, pre-made routes where you can be quiet or be loud, and it usually boils down to killing people quietly until it hits the fan and then total chaos until you finally finish everyone off.

This game REALLY lets you play however you wish. The nanosuit you wear has armor, enhanced strength, cloak, and speed modes that you can swap between on the fly with the mouse wheel-button (honestly, a pretty slick method, I thought). Combining all these tactical options with W I D E open (the extra spaces in "wide" are to emphasize the width we're talking about) level design makes for a lot of choices in how you approach combat.

Levels are made up of a lot of points-of-interest on a map linked together by no real clear way to get between them. The obvious method is to run as the crow flies straight through the jungle, which you can often do unless a mountain says otherwise. You'll encounter random patrols along the way... or not, it's fairly random. Or you can stay off of the busy roads and try to circle around an enemy camp and come in from the side, or often sit WAY too far away with a sniper rifle and honestly pick the camp apart.

General combat for ME usually looked something like this: use cloak to get into position and wait for a good time to announce my intentions to create some serious violence. Once I do, cloak to get to cover and then either continue sneaking around during the mayhem or speed run away. If I could, turn on strength mode to jump over a wall or onto a building and put some obstacles between me and the enemies, then cloak, sneak around and start it all over again.

A lot of this is made possible by the radar, possibly the MOST important suit power you've got. It shows enemies, what direction they're facing, how alert to your presence they are, and REALLY gives a cloaked-you the upper hand in combat without having to stick your head out and look around.

The game isn't without it's flaws. The story is perfectly good from an FPS standpoint, but pretty predictable. There isn't a lot of weapon variety in the game - mostly fairly real-world weapons like shotguns and assault rifles. There are some vehicle sections that were added because people like vehicles now and not because they made the game better… including one truly awful flying one near the end of the game. And man… the bugs. I had some truly hilarious moments in this game where for instance I'd be ducking between buildings fighting a tank, only to suddenly lose track of it… and then realize it was 60 feet off the ground spinning on all 3 axis… there's not much you can add to that story.

But… honestly? I've never had so much fun in an FPS. Properly navigating the nanosuit interface as you fly around a base picking off enemies felt as rewarding as anything I've ever done in a game. Combined with the way the game uses enemy camps and interest points to get you to progress through the game but doesn't tell you how to get from A to B, and doesn't force your hand when it comes time to engage the enemy is extremely liberating.

Oh, and before I go, one quick story:

So I'm wandering through the woods just off the side of a road in the game when an enemy patrol comes around the bend. I cloak, and duck into the woods about 40-50 feet and watch to see what they'll do. They come to a stop right where I left the road and one guy wanders into the woods, stands about 15 feet away from me and starts taking a leak. Well, needless to say it didn't end well for any of them. That's a moment I'll always remember as one of my top 10 gaming memories.