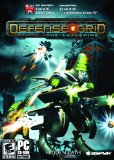 Defense Grid: The Awakening PC (Steam)
The gold standard of tower defense 4.5/5 stars
You need to know something before reading this whole review, so I'm just going to get it out of the way: I'm a HUGE tower defense honk. I love 'em. Absolutely LOVE them. I think it's that part of me that, as a child, used to build forts out of couch cushions and hang a sign out the front that said "No girls!". If you're not a tower defense fan, you may as well stop reading now and go find another game to investigate.

If you ARE a fan of tower defense games, have I got good news for you. Defense Grid is the BEST tower defense game you can hope to find.

There is beauty in a perfectly crafted defense. Playing RTS games, for example, I can spend an entire round crafting and tweaking my base into an impenetrable fortress. Tower defense games cut out the part of RTS games where you have to build units to conquer some other territory, and leave you with the sole responsibility of protecting a certain location until YOU CREEPY LITTLE ALIENS LEARN WHAT HAPPENS IF YOU EVER DARE AND TRY AND TAKE MY REACTOR CORES! I WILL DECORATE MY HOME WITH THE BONES OF YOUR FALLEN!

Since the tower defense genre isn't the most widely played, you may not be familiar with its conventions. All games have bedrock fundamentals. Mario jumps. Mega Man picks up the weapons of his enemies. Call of Duty gets you called a gay queer monkey fag. Tower defense games are all built on the idea of resource earning and spending.

You more than likely start with a small amount of capital to spend on defenses. Every kill you earn lands you a small amount of money, so as you defend the level, you earn more money. Defense Grid requires all of your defenses be built upon pre-determined areas. Sometimes, this limits the amount of defenses you can put in high-traffic areas, requiring that you use those spaces wisely. Other times, entire MAPS will be made of these spaces, requiring you to not only plan what TYPE of tower you build, but also plan WHERE to build them as you literally construct the very maze that will ultimately be the doom of anyone who would dare test it. Most levels have some mix of the two, where there are sidewalks the enemies freely walk on that intersect with large platforms that allow you to break out your inner city-planner and craft the path they'll have to take. If you completely block the area off, the aliens will start wandering through your maze as the crow flies, walking straight through the towers on the shortest possible route to their destination.

After building towers, you'll have the option of spending cash to upgrade them. This is especially handy when the available spaces are limited. Upgrades are pretty straightforward, more damage, more range, that sort of thing. There are 10 towers; each of them can be upgraded twice. The types of tower range from single-target towers like machine gun or laser towers to area-of-effect towers like flame-throwers or meteor launchers to status effect towers that slow down enemies. Obviously, an effective defense is about mixing and matching the strengths of each tower to combat the varied enemy types. Aside from the towers, you have control of an orbital laser after a certain point that can be used wherever you see fit. It will take a few minutes to recharge after every use, so use it sparingly.

You'll face several types of enemies in a level. There are enemies with recharging shields, enemies that spawn other enemies, enemies that cloak nearby enemies, flying enemies that can only be shot by certain towers, and so on. The invading aliens are after each level's reactor. If they get to a reactor, they'll take one of the cores that power it and try to reach the exit. If you kill the enemy carrying the core, it will begin to float back to the reactor, unless picked up by another enemy. If you possess only ONE core at the end of the level, you can proceed to the next level, but no one ever got a high score that way, you slacker. A full reactor not only nets you more points at the end of the level, but DURING the level, you generate interest on your cash reserves based on how many cores are currently safe and sound in the reactor. This is a great mechanic that causes you to weigh how much you NEED to build/spend now... versus trying to get by without spending money so that interest is compounded off of as high a total as possible.

There is... some kind of story in the game. These aliens have been here before. You're in charge of saving the planet using the existing "grid" for "defenses". There's not much story progression from one level to the next, it merely serves to set up the location each level is set in. The story is ALL told by a quirky British computer voice, the only real "character" in the game. The good news though, is that he's a pretty good character.

While most tower defense games are 2D, because well... they don't need to be 3D... this game is fully rendered in 3D. And as far as this genre goes, the visuals are pretty great. Color palettes can be completely swapped from one level to the next, so the art design team got to have a lot of fun with each level. Visuals are clear and detailed, though the action is usually happening so fast you won't spend much time really taking it all in.

After the main game is over, there's plenty of DLC. Get it ALL. It's exactly what DLC should be for this game... more levels, more challenge, and even a cameo by another famous video game voice.

Each level also has about 6-8 challenge modes as well. These can be anything from no-upgrade playthroughs of a level to limited money, to limiting what types of towers you can build or even drawing out a 15 "wave" level to 100 waves to see if you can really lock down the level. I really enjoyed playing some of these, but I can't say I tried all of them.

If you like tower defense games, this is a no-brainer. I'm not kidding, the only reason to not pick it up is if you've sworn off the genre completely. In a genre busting at the seams with free, browser-based options, some of which are even good, this is a game you can't afford to miss. And the way Steam prices games, the good news is you can ABSOLUTELY afford to play this game.