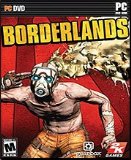 Borderlands PC (Steam)
I want your money... not your life. 4/5 stars
Bill Cosby once said "I don't know the key to success, but the key to failure is trying to please everybody." I guess he said that. I'm not like, the president of his fan club or something. We've all heard variations of that before, the most common usually revolves around warning that if you try and please everyone, you'll end up pleasing no one.

It's a pretty good motto to follow, especially if you're a person that makes some sort of media. We all can remember books or movies or video games that try to do too many things at once, lose their focus, no single aspect of the project is ever done "well", and the entire product suffers because everyone is in over their head.

So when someone came up with the idea for Borderlands as an RPG-FPS hybrid (what the developers apparently termed a "looter-shooter"), I HAVE to assume that some version of that old saying was bouncing around in a head or two as the foundation to the game was being discussed.

And on the surface, it would seem like the old adage would again prove to be true. The FPS mechanics in Borderlands are fairly pedestrian, wrapped in a Diablo-esque looting system, a little character progression, and four character classes that aren't especially different from each other. Essentially, a bland FPS combined with a bland RPG.

The problem with that evaluation is that it fails to mention how Borderlands is completely great.

This game is entirely more than the sum of its mediocre parts. And it's because the pros of one mediocre part serve to mitigate the cons of the other mediocre part. We'll get to that in a minute.

The basic premise of the game is that you're a "Vault Hunter". There is an old legend about an ancient alien vault full of treasure on the planet of Pandora, and vault hunting is something like being a gold prospector in 1851 crossed with Indiana Jones deciphering riddles.

Most of that nerdy archeology has been done for you already. Your task now is to collect the keys to the vault, open it, and get some treasure. You'll meet opposition, mostly in the form of random bandits and wildlife. Occasionally, some more organized enemies will find their way to you as the large, weapon-manufacturing companies catch wind of your impending success and try to steal the key at the last moment. Getting the keys themselves will usually involve a set of quests to curry the favor of whoever it is you need help from, along with a large amount of side-quests that can grant you extra XP, loot, or cash.

To say that the game is lighthearted would be an understatement. This game is RIDICULOUS, and proud of it. The writing is an almost non-stop barrage of one-liners and ridiculous accents, delivered by outlandish and memorable characters. The writing successfully walks the fine line of being over-the-top without overstaying its welcome, so more hilarity is always just around the corner.

The graphics are cel-shaded, lending a cartoonish look to the game. It fits the humorous tone of the game, and gives the artists license to make all the characters all unique, which helps create even more personality around the characters already dripping with it thanks to the writing. The game was rightly criticized for having a fairly bland color palette, most areas are a mix of brown and brown, with red or brown accents, but it fits the desolate, every-man-for-himself, wild, wild west feel of the game. I'm not saying they shouldn't have found ways to jazz it up, I'm just saying it fits the setting.

Alright, let's talk gameplay. I took a couple shots at the two tentpoles of this game, so I should probably explain myself. The FPS mechanics themselves are pretty standard. Point, aim, shoot. You get (at your peak) 4 weapons at a time from the standard selection of pistols, assault submachine guns, shotguns, assault rifles, and rocket launchers, with a supply of grenades 'cause hey, why not? The controls make use of that left-button-shoot and right-button-aims-better scheme everyone is so keen on and I'd just as soon leave behind, but these are the times we live in. You'll have a shield to absorb a set amount of damage before recharging on its own as well as a health bar that needs to be refilled by items or skills (FYI - this system is currently my preferred health system for an FPS).

The thing is, as an FPS, it's just... a little bland. It's pretty easy, as long as you're not completely overrun, or as long as you don't find yourself up against an enemy above your level (more on this later), and as long as you don't run yourself out of ammo. Hide behind cover till your shield comes back, take down an enemy or two, repeat as needed. The human enemies aren't especially smart, so they'll make it pretty easy on you a lot of the time, and a trusty sniper rifle can often render most of your arsenal fairly dormant.

These weapons all have a basic stat card you'll see whenever looking at the weapon on the ground or in your inventory. You'll see damage, accuracy, fire rate, clip size, and then any assorted comments, should you need special info about a gun like bonus to melee damage or an elemental damage effect. Here comes the first, and most imporant, RPG aspect of the game: LOOT. Weapons are randomly generated from nearly every enemy you kill, and your next great gun can come from literally anyone at any time, so get ready to crunch numbers early and often. Standing there, comparing numbers wondering if the lower damage will be made up for by the increased fire rate of this new gun... you'll do that a lot. Shields and grenades have similar stat cards, so you'll find and compare those frequently as well.

In a game full of memorable characters, the guns are often the stars of the game. Borderlands advertises itself as the game of 87 bazillion guns, so you should indulge them and obsess over them a little. After a session of play, you can't help but brag about your latest find. I often find myself playing just a bit longer just so I can try out a new toy, and "productive" nights usually are measured by new weapons more than how many quests I've knocked out.

The next RPG mechanic is the old, familiar concept of leveling up. Enemies and quests are worth experience points, you get enough XP, and you get a level. A level scores you an HP increase, melee damage increase, access to higher-level gear, and an ability point to spend in the skill tree. Skill trees can do anything from modify the special ability each of the four main classes has with things like more damage or reduced cooldown, or apply passives to your character like increased shield capacity, melee damage, or reload speed. You can vary character builds a little from person to person, but you'll get enough ability points during the course of a game (assuming you've got all the DLC, and let's be honest, on PC you've got no excuse) that every player will get their tree pretty much completely filled out, so there's not all that much variation within a single class.

Levels are worth noting during combat, as well. Lower-level characters give less damage and take more damage when fighting higher-level characters. This can work for or against you, depending on if your enemy is a higher or lower level than you. It also serves to reduce the FPS twitch-skill needed, as fights generally come down to the raw numbers at least as often as player skill, making this a more RPG-ish game than it seems to an untrained eye.

So, at what point does all this come together to make a more-satisfying-than-it-should-be game? Well, as I said before, the strengths of each system manage to compensate for the shortcomings of the other. Lukewarm firefights are excusable when the rewards are coming fast and furious. And you'll have those days while playing this game where you'll turn over your entire backpack in an hour with a host of brand-new toys. And the quests usually wrap up fast enough that you're always on the move. So even if you're not fulfilled by the shootout you were just in, tearing through RPG-esque quests left and right keeps the overall pacing of the game pretty high and keeps the players busy.

And let's face it, there are plenty of RPGs out there that were never known for good gameplay. Good writing, and the dangling carrot of character progression are still there, but the game (as an FPS) moves fast enough that you don't dwell on things like the character progression not being that deep, because honestly... who needs it? Let's go shoot some bandits! Maybe the story isn't that deep or involved as far as RPGs go, but I just ramped a rocket-shooting dune buggy over a ravine and squashed like three dudes when I landed. High five, bro!

I can hear you now, "All that number crunching sounds boring. I don't want to spend 5 minutes after every fight combing the ground for some small stat boost."

Then don't. This is still an FPS, after all. You can run and gun until you progress far enough that you're knee-deep in better shotguns and then just pick any one of them up. The loot is NON-STOP. If you miss something good, trust me, something better is on its way.

I should also bring up the cooperative play. Up to four players, cruising through the game together. Not only is it fun to have a few friends, but as the number of players goes up, so does the difficulty, and (just to be fair) so does the quality of the drops. So if you REALLY want good loot, grab some friends. I played with 3-4 guys through the game, and a diverse damage-dealing portfolio makes the fights a lot easier, even with the added difficulty. This should be considered the "true" Borderlands. You can play by yourself, but you're missing out on the true game. A little adivce: play as different classes than everyone else. Classes each specialize in a different gun, so you'll all make peace with rewards as one person can have the best sniper rifle, another can have the best assault rifle, and so on. This will keep you all friends so you're not always arguing over the same class of guns and then blaming each other for using all of the ammo of one kind that drops.

I was proven wrong by Borderlands. I never thought a game could try to do so many things, never do any of it especially well, and would still be a huge amount of fun, but I was wrong. Borderlands just... sings... partially on the humor and tone of the game, partly on the pacing, and partly on the ever-present chance at finding an S & S Liquid Orion (one of my favorite guns) with higher damage than the one you're currently holding.