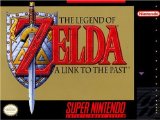 The Legend of Zelda: A Link to the Past Super Nintendo (SNES)
The Very Best of Zelda 5/5 stars
I have to admit being a little torn about my true feelings about this game. While Ocarina of Time remains my favorite game of all time... *whew*... this game. This game is something special.

The graphics were colorful, sharp, and full of life. The score was excellent. The gameplay and difficulty were finely tuned to constantly challenge first-timers as they got better at the game and even keep the vets from getting bored. Great control that made good use of the SNES pad without getting too complicated.

But this isn't news to you. Odds are, you've been told a million times how great the graphics were. What makes this game GREAT, though?

To put it into words, this is the perfection of the original Zelda formula. The formula laid out in the original Legend of Zelda reached it's apex here in A Link to the Past.

Ironically, this game was also the END of that formula. Starting with Link's Awakening, Zelda games began to have a more pronounced emphasis on other characters you meet throughout your journey.

Another way to think about it is that Zelda became much more driven by karma. As you help others in your journey to save the world (as if they didn't benefit enough from your stopping the forces of evil) they help you by giving you heart pieces, keys, bottles, and so on. The more you help by doing side quests, the more help you get towards your ultimate goal.

Such was not the case in A Link to the Past. Sure, there were a few side quests that resulted in an upgraded sword or something, but nothing like what we see from modern Zelda.

This game was CONCENTRATED Zelda. Heart pieces just laying on the ground in caves if you walked in the right door (or fell in the right hole). Hell, the most you had to do for a heart piece was win a treasure chest game or shovel-digging game. Getting the flippers amounted to little more than a long walk if you had the scratch to pay for them. You could upgrade your boomerang, shield, sword, and arrows for free just by tossing them into the right Great Fairy Fountain.

Zelda games in latter years would add more variety, characters, and side quests, resulting in a more fleshed-out setting and more complex story, but sometimes at a cost of pacing. Play Wind Waker or Majora's Mask sometime - games that sometimes felt bloated by all the extras and could stop being fun - and then play A Link to the Past. It's shocking to move through a Zelda game at such a speed.

If Zelda was a meal, then Ocarina of Time would be a half-slab of ribs, beans, corn bread, and fries. A Link to the Past knows you didn't come here for the beans and corn bread... this game would be twelve pounds of RIBS. Or... you know... whatever food you prefer. No fluff, no sides, just the absolute best parts of Zelda served at a breakneck pace.

So, what have we learned? Pacing. Pacing is what makes this game so special, even among other Zelda titles, and pacing is why it remains a game that's always worth a play.