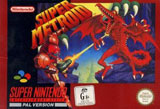 Super Metroid Super Nintendo (SNES)
Your rate for collecting items is... 5/5 stars
I don't know that there's any 2D action game that has better sheer gameplay than Super Metroid. The controls were tight and every button had a use without the controls being overly complex. The weapons were diverse, but everything got plenty of use just in the course of normal play. The graphics were smooth, vivid, and detailed without the screen getting cluttered. There was just the right mix of enemies and bosses that required you to target a weak spot or something and others that you could just pound away on until they died.

But on top of all of that, the sound was INCREDIBLE. The music does a great job of setting the mood from tense boss fights to mysterious haunted ships to the deepest, fiery, ancient bowels of the planet, each song accompanies the setting perfectly. And when the music quiets down, you notice how naturally the sound effects fit into the game instead of becoming annoying.

My only hesitation in recommending this game to absolutely everyone is the challenge. The game doesn't give you a lot of guidance, so you COULD feasibly spend a lot of time wandering around wondering where you need to go next. The in-game map is you're only help in this regard, and you'll use it a lot. Personally, I think this helps to create the the atmosphere that ALL Metroid games SHOULD have, and if you're good at keeping track of where you've been in your head, this won't be an issue.

Also, some of the boss fights can be pretty tough if you don't know what you're doing, but I don't think the game is hard to the point of being cruel.

The game uses the Metroid source material well, with some familiar enemies and locations, but also expands (and I would say perfects) the formula laid out in the original. This is an absolute must-own, must-play Super Nintendo game, and one of the most well-made video games ever.