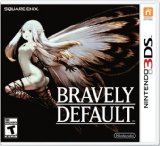 Bravely Default Nintendo 3DS
Yeah, I said it: Episode XIII 4/5 stars
I don't care for where the Japanese RPG has gone in recent years. Japanese RPGs used to be about story and characters and drama and music and art and… I swear, anymore is just feels like these games are getting made as an excuse to design insane hairdos and dress computer animated women up in ridiculous outfits because they can't get REAL women to wear them.

It didn't need to be like this. I blame Final Fantasy VII, but that's for a different time.

A while ago, someone decided that the turn-based RPG was just too boring, and that they should stop being made entirely. I don't get it, because I loved those games. I understand that with our mighty CPUs, we have flashier ways of detailing combat than two opposing parties screaming numbers at each other, but it seems like that was an awfully shallow way to view the genre. The fun wasn't in moving a cursor, the fun was in the strategy. We still have slow, turn-based strategy games! What happened to the slow, turn-based RPGs?!

Anyway, hopefully, good, turn-based, JRPGs are on their way back. At least a little, maybe. Bravely Default may just lead the charge. Square Enix's president in interviews seemed genuinely surprised at the success of Bravely Default ("A good JRPG sells well globally?! WHHAAAAAAAAAT??? But no one is carrying a sword the size of a surfboard!!! We need to rethink everything we thought we knew about what people like about video games…") so hopefully the industry's biggest-name source for JRPGs will come to its senses.

Sorry… this isn't a blog, it's a review. So let's get into the game. Bravely Default is a turn-based JRPG, and in a lot of ways, a very traditional one. Stuff like buying equipment, hit points, magic (or "ability" points), fire, fira, firaga, white mage, monk, random encounters… it's all back, basically just like you remembered it. It's not called "Final Fantasy: Bravely Default", but it may as well be.

You'll be wandering the world, be randomly sucked into a battle, and it's on. Commands are entered for all characters at the start of the turn, so planning for your entire party a little ahead of time is a requirement. The turns play out between your party and the enemies based on character/monster stats. You'll gradually unlock 24 character classes if you follow all the side-quests (which isn't hard, so you don't have to exactly kill yourself to get all the classes) that will be available to any character, so you can really make a party comprised of anything you want.

Here's the first area this game really, REALLY shines. The job system. Anyone who is a fan of the Final Fantasy Tactics games (or anything with a really deep job system) will love this. Spending time in battles as a class earns you new abilities with that class, be it new tiers of magic spells, new skills, or new equipable passive abilities. Each class will grow/shrink your stats to correct for the fact that knights have better defense than white mages upon switching classes, and different classes have differing levels of proficiency with some equipment like shields or daggers.

Each character will have a primary class and a secondary class. Your primary class determines your equipment proficiencies and sets the passive ability inherent to the class. The secondary ability can be any other class you want, and will grant you access to the entire set of abilities you've unlocked. If you make yourself a knight with a black magic secondary ability, he may not be great at casting spells, but the game won't stop you from doing it.

Lastly, in terms of character customization, is a set of passive abilities your characters unlock from leveling up classes. This adds one more layer of tweaking for your characters. You have essentially five points to spend on passive abilities, and more powerful passives take more points. These are a hugely important part of character customization, and can be nearly as important as primary/secondary character classes.

With 24 classes, and so many ways to customize your party, you can cook up some INSANELY powerful combinations for your party. A friend and I wrote what can only be described as manifestos to each other describing our final party setups and why we picked the classes we did. It's SO deep and SO interesting… I haven't played a better job/class system ever.

Since apparently turn-based JRPGs are the only genre that can be popular and still get wiped from the face of the earth, Square Enix decided they needed to put some thought into the basics before resurrecting the genre. Starting with the combat.

Enter Brave Points. Every turn, a character is automatically granted one BP by the game. Every action requires BP, where basic actions only require one. You have the option of "defaulting" - which is this game's version of "defend" - and saving that BP. This grants you extra BP at the start of your next turn. More advanced actions take more BP, so you can save up to three BP before the game stops you.

But, aside from defaulting, you also have the option of "braving" (I didn't make up the terms, I'm just the messenger…). Braving lets a character take up to FOUR turns right this very second. So if you save up the max of three BP, you could choose to fight or cast fira four times, and then act normally on your next turn.

OR (and here's where it really gets interesting) you can go into BP debt at any time you wish. As long as you have the option of taking a turn, you can brave up to four times whether you have the BP or not, down to a maximum debt of negative four. Once in negative BP, your character will not act until they've earned enough BP back to start a turn at zero.

Combined with the insane character customization options this is a truly astounding amount of flexibility for a battle. Imagine a world where you can cast a status effect on an enemy to weaken them to lighting, and then immediately follow it up with three lightning spells before they would have a chance to remove the debuff. Or if a character is debuffed, your white mage can remove the debuff and then heal all in the same turn. These are only the most basic of examples, and more advanced classes have some really impressive ways to abuse this system. But look out, because enemies will take advantage of the brave/default system too. The emphasis on BP creates incentive to form a party that's not just well rounded, but interacts with each other during battle to generate extra BP for each other, defend characters in BP debt, or prepare enemies for the tidal wave of damage as multiple party members spend their BP simultaneously.

While it's possible to use this system to make some truly killer combinations for your party, don't think that this game will be a breeze. There are some really, really tough fights in here, some featuring a foursome of enemies putting the class and BP system to their own nefarious use. Occasionally, the fights may seem unfair, but if you're having issues you may need to consider if you're being a little lazy with your party composition.

It's fun. It's unique. It's modern. And it's still very, very much a turn-based RPG.

But the modernization didn't stop there. Square Enix, in an effort to prostrate themselves for daring to make a game like the ones that made them so insanely famous, threw in a few workarounds for people who didn't like some old school RPG tropes.

For example, the encounter rate can be adjusted from double the number of encounters down to ZERO. That's right, folks. No more pointless battles with Lv. 2 enemies just because you need to go BACK to this town for a 6th time and talk to someone. Just turn that encounter rate off. Leave it off, if you want! You can just suck the next time you fight a boss, but at least it'll be your choice. You need a few extra levels and want to just grind some fights? Double that encounter rate and let's get cracking.

Or, if that feels like cheating to you, your characters can learn a skill that will automatically win you the fight if the enemies are far enough below your characters' level. You still get XP and all that jazz, but you don't have to mash A for two minutes to get there.

OR, if THAT feels like cheating to you, they added a "go faster" mechanic to the battles. You can play them out normally, but animations and the like are sped way up to shorten the amount of pointless fighting you do.

The story in the game is a bit of a rollercoaster ride… peaks and valleys. Your adventure is to - get this - journey across the land to visit FOUR CRYSTALS, making this the 9999th Square Enix game about four very important crystals used to save the world. The journey to each individual crystal is, in itself, a mini-adventure revolving around a town running low on water or an on-going war. These mini-adventures are fairly well-done, and can sometimes visit a little darker material than you might expect.

But… then there's that other thing. It's hard to describe without coughing up a ton of spoilers, but I'll do my best. The back… probably half of the game… is what seems like a never-ending retread of things you've done before with only difficulty increase over the first half of the game coming in the form of the new boss fights. It's long. It's tedious. It's boring. The concept wasn't a bad one, but they tried to get WAAAAY too much mileage out of the idea, and it ended up coming off like some of the worst video-game-length-padding in memory.

The graphics in this game are fantastic. I really, really thought the hand-drawn feel for areas like towns looked really sharp. Character models and animations looked great.

Sound was equally well done. In true classic Square Enix fashion, fights have a theme you'll soon have stuck in your head along with the celebratory jingle when you win (but it's not THAT celebratory jingle, sorry). The voice acting was a little ham-fisted, but this could have been as much a writing problem as the acting.

Any problems this game has with its pacing and story (and there are some) are ENTIRELY overshadowed by the stellar combat and class customization. It's quite a role reversal to have a mediocre story in a turn-based RPG propped up by fantastic - yet entirely turn-based - gameplay.

Bravely Default proves that a quality turn-based JRPG is as compelling as anything on the market if companies would simply put some effort into it.

Yeah, I said it.