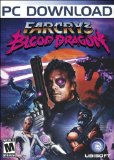 Just missing a Swatch Watch and Molly Ringwald. 4/5 stars
Making something "so bad, it's good" actually requires a little finesse. If you succeed, it's usually for one of two reasons:

1. You made something bad, and it's actually just plain ol' bad, but it gains a fan base of irony-loving fans. Most likely with ironic facial hair, drinking PBR, and... hipsters. I'm talking about hipsters.
2. You made something based on how bad something ELSE was, but add an element of fourth wall-breaking nods to your audience. "Hey guys... remember Darth Vader screaming 'NOOOOOO!!' at the end of Episode III? How ridiculous was that?"

The second element is basically satire. It's insufferably easy to do poorly (eg. all the "Scary Movie" flicks), but doing it well takes a lot if work and insight.

Good news! Far Cry 3: Blood Dragon does it well. This game is absolutely dripping with 1980s action movie tropes along with a little commentary about gaming to boot. Character names, dialog, music, mission names... everything likely has a nod to something you hate to love about rewatching old Schwarzenegger movies like "Total Recall". The entire thing is wrapped around the standard Far Cry 3 gameplay, which happened to be pretty excellent.

You star as Sgt. Rex Power Colt, a Cyber Commando in the year 2007. The nuclear wars of the 1990s have made the Earth a dangerous place. It falls to you to bring down Colonel Sloan, another Cyber Commando who has gone rogue, and has a payload of rockets loaded with the blood of the blood dragons with the intent of mutating the surviving human race.

The gameplay borrows heavily from Far Cry 3, see my review of that for a long-form breakdown of the gameplay. Blood Dragon still has you on an island, still has you raiding enemy camps as stealthily or explosion-y as your heart desires, still has you running into wildlife around the islands (only now they're sweet-looking robot jaguars), and still has you upgrading skills and weapons.

Some stuff has changed. No more skill tree, you now just unlock a skill at every level-up. This isn't a big deal for me, as many of the skills aren't game-breakers, so gameplay is largely unchanged start to finish. Having played Far Cry 3, though, I did find myself occasionally going, " Ugh... when are they finally going to give me _____?!" No more radar towers, that map revealing is now rolled into the enemy base raids. And while the gameplay was essentially unchanged, I did feel like the bases were sometimes pretty hard to be super sneaky in as I cleared them out compared to the general difficulty of Far Cry 3.

The blood dragons are also a new twist. These elephant-sized lizards can throw a monkey wrench into any plans, sometimes for the better. Luring a blood dragon into an enemy fort is the thinking man's way of clearing a base, though they aren't always to be found. They'll also feature prominently in some story missions. They can often be a challenge to take down, but if you're prepared and patient, it's not too hard.

Graphics are one of the high points of the 80s satire the game indulges in. Literally everything glows neon blue or green or red or has neon piping in that way that the 1980s used to use to show us it was the future. The rest of the color palette is a little dull, which can make the wilderness areas of the game a little bland or hard to see, but it's generally not a big deal.

Audio may be my favorite part of the game. The music is just... constant synthesizer music. I absolutely loved it. If you played it for someone as they walked into a room, I can almost promise they'd stop in their tracks and do that thing where they go "Oh man... what movie is this from?" The other sound effects of lasers and explosions are as 1980s inspired as the rest of the game. The dialog is voiced by a few names/voices you're sure to remember, and they even landed the notoriously 1980s, Sarah Connor-impregnating, Michael Biehn to voice the main character. The dialog is wonderfully corny, and the actors play into these campiness well.

The game is noticeably shorter than Far Cry 3, clocking in at around 8-10 hours for just the story and side quests, but not getting all the collectibles. In truth, this is a good length; the streamlined gameplay might not stay compelling for as long this time around, and the satire would eventually get old, I'm sure.

Far Cry 3: Blood Dragon was created on the assumption that you're interested in at least one of two things: open-world FPS action and/or the 1980s. It plays both of these elements up quite well, so if those sound interesting to you, I highly recommend this game.