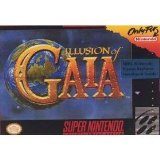 Illusion of Gaia Super Nintendo (SNES)
Simple and Fun 4/5 stars
A nice different action RPG that's just enough like Zelda to keep it familiar. There's no wasting time traversing a world, you go from town to town advancing the story taking on dungeons and the like. It's a similar story, you play the hero and the world is in trouble, this time by a comet.

Here's a couple nice things about this game. First, you upgrade your health, strength, and defense by killing all the enemies in a given area. You know how many enemies there are by checking the map. I like this because it pushes you to make sure you go everywhere in the dungeon. Second, the additional powers you receive help you fight enemies as well as getting in other areas of dungeons. There is a lack of items, but you can transform into a couple different knights that have a couple different abilities.

A pretty simple RPG, but it's fun and not a grind that other RPG's tend to be.