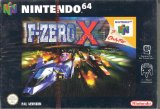 F-Zero X Nintendo 64
As Good As The First One 4/5 stars
A lot of people thought this was a step down from the SNES version of the game. I totally disagree. The races were great, adding half-pipes and other 3D aspects that the original couldn't have. There's a wide variety of vehicles varying from big and powerful to light and nimble. There's one event where you try and destroy a set number of vehicles as fast as you can.

Multi-player is great and has a unique function. if you beat the game, you can open up random courses where it generates something completely unique when you play with friends to keep everyone on a level playing field.

It's still very fast, it's still F-Zero. This is a good one.