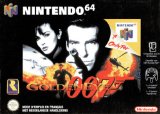 GoldenEye 007 Nintendo 64
The FPS That Others Can Only Try to Be 5/5 stars
This game alone made me a fan of the FPS genre. Goldeneye's wide variety of levels and weapons and familiar feel from the movies kept me interested in the story and not just going from point A to point B shooting enemies. The challenge of unlocking cheats and beating the advanced modes kept my playing for hours and hours.

I may not be in the norm on this, but I thought the 'C' buttons for strafing and tilting up and down gave this game great play control. Sniping was easy and fun, and small amount of auto-aim gave everyone a fighting chance.

Multi-player put this game over the top. Goldeneye took advantage of the 4 player option on the N64. My friends and I in high school would play this for hours and hours on weekends. They claimed I knew where they would spawn, which could be done which was a minor flaw. To be honest, I was too busy going after the closest player and taking them down to try and follow people around to where they came back to life.