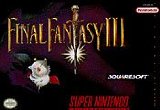 Final Fantasy III ( Final Fantasy VI ) Super Nintendo (SNES)
Best RPG Ever 5/5 stars
Final Fantasy III is the greatest RPG ever made. For those out there that say it's Final Fantasy VII, it's because they didn't play this one first.

The story is great. The bad guy is easy to hate. There's mystery in the lead character. The rest of the characters have unique abilities, yet you can teach them all the same spells. You can expand on the characters' stories while you advance the game story. It's challenging, but beatable. I spent well over 50 hours both times I played it and it didn't feel long either time.

An absolute must play for final fantasy fans.