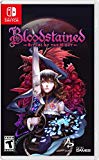 Bloodstained: Ritual of the Night Nintendo Switch
A Castlevania Clone That Meets Expectations 4.5/5 stars
Bloodstained: Ritual of the Night fills a need for console gaming that Konami didn't address for years.

Make no mistake, Bloodstained is a Castlevania clone. For those who do not know the story behind Bloodstained, here's a really short summation. One of the former producers of Castlevania, Koji Igarashi, wanted to make another game and went through Kickstarter to get funding. Over 5 million dollars was pledged so the game Bloodstained: Ritual of the Night got started. It took a long time for the game to get made but it was worth the wait.

The story isn't about Dracula, but it could definitely fit into that universe. The main character in the game is Miriam, who sets out on an adventure to take down her friend Gebel who is in control of a castle filled with demons. A group of men conjured up these demons by manipulating crystals which were infused into Gebel and Miriam. That's why Miriam is involved, she is still good but these shards have corrupted Gebel which has turned him evil.

Graphically speaking Bloodstained is more of a 2.5D game. You move around in a 2D space but the graphics are rendered in 3D. While these graphics don't compare to some games in the PS4 generation, they're well done. Environments are colorful and fit the mood of the setting. The music sets the tone well too and is pretty good but in general isn't overly memorable.

Gameplay is where this game truly shines. If you've played Castlevania: Symphony of the Night or any of the Castlevania games on the GBA or DS this game will feel very familiar. Your character wields a weapon and there's a wide variety to choose from. There are boots for kick attacks. Or, you can wield a sword, club or whip for standard swinging attacks. You can also equip a gun and fight by shooting projectiles if you wish. Then, as you move through the castle and defeat enemies you will obtain shards from them. These shards can be equipped for secondary attacks and passive skills. One of the secondary attacks is direction. Maybe it's shooting fire or a dark aura that you can point in any direction by using the right analog stick. Then there's another skill that might be an attack that shoots a wave across the ground or maybe tossing an axe in the air or even creating a protective barrier that circles you. The number of options you have is so big you'll never try them all. What's best is find something you like and stick with it. Then there's a passive skill you can equip that augment your strength, defense etc. Finally, you can summon familiars that travel with you and aid in attacking your enemies.

There are RPG elements to this game as well. You can experience by defeating enemies and you can level up your character. Also there's gear you can equip to boost your stats as well. It's pretty standard in these Metroidvania type games now. There are a few NPC characters you meet early on that you can purchase and make upgrades with. You can spend a lot of time with this. One thing I particularly enjoyed was creating food dishes and finding the ingredients to make them. Food in this game restores health but whenever you make a new dish, the first time you eat you get a permanent stat boost dependent on what the food is. It's basically a way of leveling up your character and I tried to do that whenever possible.

The castle is large and fun to explore. There are obvious roadblocks along the way which prevents you from going absolutely anywhere until you defeat some bosses and obtain new skills. For example,, the mid-air jump. Once you get that ability you can jump significantly higher and get to areas you couldn't before. There are several skills like this that will help you open up new areas of the castle.

Enemies and bosses are pretty standard. They have a set of attacks and movements that are pretty much predetermined and if you can learn what they do you can avoid and counter attacks. Bosses can be difficult at times but rarely did I ever actually die but I often had to use potions to restore health half-way through. Leveling up never seemed to be a chore either, the game did a good job of increasing my abilities along the way so I never felt too over or under-powered.

The game isn't perfect, I did have a couple minor complaints. A couple skills I used during my time in the game caused noticeable slow downs in the game. One in particular was the gale crawler, it's a magic skill that shoots a wave along the floor and will deal damage to enemies along the way. Often if there were several enemies on screen the game would hesitate and slow down while performing the action. Also, sometimes the NPCs in town will give you more insights into the story and hints along the way. But, there's no way to reference this later on. So, if you are trying to find where to go next and you forgot what the NPC told you a couple hours a game play ago you are just pretty much out of luck. Finally, it can be pretty easy to find Gebel and obtain the bad ending to the game but if you want the actual good ending you're going to have to explore every nook and cranny in the castle in order to get the skills necessary to get everywhere. There was on in particular that I thought was a bit cruel and would be difficult for most people to find.

All in all though I really enjoyed this game, so much in fact that I got the platinum trophy for the PS4 version. This is a great example that a game started on Kickstarter can succeed. There are lots of Metroidvania's out there right now with all the Indie developers and I'll say this has got to be one of the best.

4.5/5

PS - If you decide to play this game physically on the Nintendo Switch make sure you update the game. There were some significant performance issues before a substantial patch was issued.