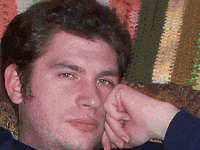 By Nelson Schneider - 05/10/20 at 05:56 PM CT
On 4/20/2020, while multitudes of people around the world spent the day smoking unimaginable amounts of marijuana and getting happy and giggly in the face of the COVID-19 pandemic, I, instead, spent the day sobbing at the veterinarian's office, saying goodbye to a friend I'd known for 18 years.

In the Summer of 2002, I was still a fresh college graduate, struggling with the frustrations of finding a job – or even finding an interview for a job – in the horrible modern economy. All of my immediate family was still alive back then, and I spent a lot of time on my grandparents' farm (which is now my farm). Grandma and Grandpa always had a lot of farm cats, and the long-haired, tabby-striped Maine Coons that have accompanied me through my entire life all came from Nelson Farm stock. That year, though, Freckles – a short-haired tortoise-shell colored skank who happened to be one of the most prolific Queens of her era – had a litter of kittens in the bushes just outside Grandma's and Grandpa's back door. She did this quite often, but in 2002, something happened for the first time: Some of the kittens were blue.

I had never seen a blue cat before, and the largest male in the litter was the fluffiest, bluest little butterball I had ever seen. I wanted to take him home with me, but I already had two other cats, and as a soon-to-be grad student living at home and commuting to campus, my folks had the final say in the matter. But I would always stop by my grandparent's place on the way home (it was next door, after all) in order to play with the "Funny Five," as my Grandpa called them (oddly enough, there were six of them – two yellow tabby males, one tortie female, one blue female, one long-haired blue male, and one short-haired blue male – but the short-haired one was ear-marked to be given away nearly from birth).

During one of these visits, I noticed that my blue little butterball had a bald spot on top of his head, like a monk's tonsure. Further inspection revealed that each of the siblings had patches of missing hair. When brought to the attention of my late veterinarian Troll-Dad, the diagnosis came back as a fungal infection known as ringworm. While I was busy at school, my family was busy scrubbing down the part of the barn where the cats tended to congregate and my grandparents' front and back porches with bleach water. That was easy enough, but the less-easy part was getting the ringworm fungus off the kitties themselves.

None of the other farm cats showed signs of the fungus, so the Funny Five got to go into quarantine in an empty appliance box in my parents' brand new garage. As a surface infection, the treatment for ringworm wasn't something as simple as oral medication or a shot: It required daily baths with antifungal shampoo. I assisted with these every afternoon when I got back from class, and after two weeks of cat baths, the Funny Five were not only cured of the fungus, but had wormed their way into my family's collective heart. Grandma's and Grandpa's newest batch of farm cats became my immediate family's batch of farm cats, as they took up residence in the old attached garage, which has been recently converted into a hobby-centric 'sun room' for my mother. They all got names, too.

My blue little butterball was Ashford – Ash for short.

While each member of the Funny Five developed a strong personality of their own, Ash was truly weird and unique in a whole lot of ways. From kittenhood, he would follow my Mom around while she was working in her flower beds, throwing himself into every and any hole dug for the purpose of planting a flower or vegetable. He would gaze at me from across the room, and if I talked to him, he would always respond by quivering his upper lip, showing off his gleaming canines, yet not uttering a sound. Ash's weirdness earned him many titles and epithets, such as The Gardening Cat and Silent Teeth (the latter of which eventually collided with his blue coloring and the march of technological progress into Blue Tooth). However, the traits Ash possessed that would ultimately follow him for the rest of his life were a bit more intimately tied to my own personal interests in Nintendo's 'Pokemon' franchise and the world of Classical literature.

I have been asked why I ever got into 'Pokemon' in the first place. The simple answer is that the series is a Turn-Based RPG (my favorite), the scenario always revolves around a classic coming-of-age story, and – ultimately – 'Pokemon' is about going on an adventure with your pets. Everything else is extraneous. And in 2002-2003, my primary means of relaxation after class and my crushing homework load was to play "Pokemon: Gold Version," where I was highly invested in the post-game daily content.

From the moment I saw Ash (and his blue siblings), I joked that, since he was blue he had to be a Water-Type pokemon of some sort. Imagine my surprise when, one day while sitting in a lawnchair with Ash on my lap, I noticed that my shorts were soaked, as was Ash's beard. It turned out that Ash knew how to use the pokemon move, Bubble, as large quantities of frothy drool ran down either side of his chin. This would become his signature move, as any form of petting or cuddling (or even insinuating that petting/cuddling was forthcoming) would illicit this same response. You know you've got a Water-Type pokemon on your hands when you touch it and you get wet.

The last weird trait I discovered in Ash was even more unexpected. Any cat person knows that our feline friends love to have their bellies rubbed. Ash was no different, and he and I shared many belly-rubbing sessions that were highly reminiscent of the cat-belly-rubbing mini-game in "No More Heroes." However, it seemed that Ash often enjoyed these a bit too much, as the silvery-blue hair between his hind legs would part to reveal the throbbing pink strawberry of his erection, which he would rub against my wrist if given the opportunity, thoroughly grossing me out. He never got out his strawberry for my Mom or Grandma, only me… and that's when I realized:

Ash was gay.

All the pieces of his bizarre personality started to fall into place. His feminine looks, his mincing walk, his floppy wrists and ankles, his love of gardening, even the drooling problem: All were aspects of a character archetype that had existed since ancient times, and which I was then reading/translating in the pages of Petronius' "Satyricon" as part of my classwork. After being neutered (as all the Funny Five were), Ash became the archetypal fat, gay, slobbering eunuch. Thus, he became primarily known as The Gay Blue Cat, which I always thought would be a fantastic name for an Internet startup company.

Returning to the pokemon analogy, I had always assumed that Ash was most closely analogous to something like a Vaporeon. However, upon discovering his non-conforming gender dysphoria, I realized that I had a really special pokemon on my hands, as in Generation II of the classic handheld monster-catching series, only Legendary pokemon were genderless. Ash wasn't something as common and banal as a Vaporeon…. He was a Suicune! Thus he earned yet another nickname: Sweetcoon, "sweet" because of his gayness and "coon" because of his Maine Coon breed.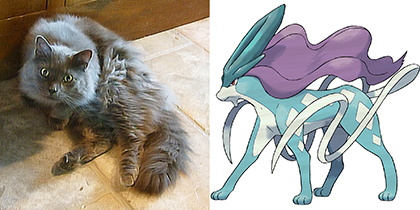 Which is the Gay Blue Cat and which is the Legendary Genderless Pokemon?
As Ash grew older, he started to conform even more to Suicune's looks, as he often had so many mats and hairballs on his butt that he needed to have the whole area shaved, and he developed a spot of pinkish-purple hair between his shoulderblades, which eventually spread out into an entire pink 'cape,' such as the one sported by his Legendary archetype. When "Pokemon GO" was released in 2016, and I first discovered that Game Freak had added a Fairy-Type to the variety of pokemon sub-types, I would often joke that I must have a super-extra-special Nebraska Variant Suicune that is both a Water-Type and a Fairy-Type.

For 18 years, through grad school, through my struggles finding employment, through the lay-offs, through the deaths of family, Ash was always there, and we had our little routines. He'd sit next to his dry food tower, I'd pet him, and we'd both get wet (the floor too). He'd sleep in his circus-tent themed cat bed, I'd squint at it, trying to make out a blue cat amongst the navy blue lining, he'd turn toward me, golden eyes sparkling in the light, I'd point at him and shout, "GAY!" and he would give me the Silent Teeth quivering lips in response. He was a consummate yard-work assistant, mincing-around airily and waiting for any opportunity to interrupt the project and receive some love.

On April 15, 2020, I noticed something was wrong. Ash was walking around like he was in pain. His eyes were sunken and watery, and he'd often just sit in the corner with his shoulders slumped. I thought, perhaps, he'd gotten into a fight with a stray cat, raccoon, or possum. I took him to the vet the following Monday, expecting to be sent home with some antibiotics and painkillers. Instead I was sent home with a body bag. Ash hadn't been in a fight he could win. His battle was with old age. He was in renal failure and severely dehydrated. There was nothing to be done, as the Legendary Genderless Water-Type Pokemon's once-boundless flow had simply dried-up.

I got to spend the better part of an hour saying goodbye. The vet gave Ash a sedative that was supposed to make him sleepy and thus make the process of finding a vein for the euthanasia shot less painful, but it didn't do much. He was fully alert when I handed him off to the vet tech and said my final goodbye. As Ash's pokemon journey came to an end, he never stopped purring.
Share: