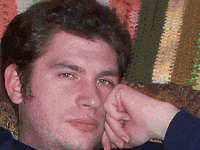 By Nelson Schneider - 10/20/19 at 04:31 PM CT
With Halloween – the Druidic celebration co-opted by both the Catholic Church and American Consumerism over the centuries – just around the corner, it's impossible to step into any public space without seeing its festive trappings everywhere, as people revel in the indulgence of the supernatural, even as increasingly few Westerners believe in any of it. For those who regularly follow the blog here at MeltedJoystick, it should come as no surprise that I am quite dismissive of Survival Horror videogames, and, indeed, the entire Genre (with a big "G") of Horror in general. This stance puts me strongly at odds with my brother-from-another-mother-(and-father), Chris, who obsessively loves Horror and has since we were elementary school kids.

I struggle to understand the idea of "scary = fun," as I spent far too much of my childhood in abject terror, and it was decidedly NOT fun. As a kid, I fully believed in the supernatural and paranormal – not just at Halloween, but year round. Between this belief, constant nightmares, and night terrors that lasted until after puberty, the idea that some people would willingly open their minds to intentionally terrifying ideas from outside sources left me absolutely incredulous.

As an officially middle-aged man, very few things scare me anymore, and they certainly aren't fictional, supernatural nonsense. No, nowadays, I'm afraid of real things, like religious fundamentalism, beautiful women, and rampant cronyism. And it's not a pants-soiling, crawl-into-bed-with-your-parents fear, but more of an uneasiness and low-level anxiety.

But thinking about Halloween and the things that scared me witless as a kid makes me wonder: Where did I come up with these ideas in the first place? Even as an absolute dinosaur fanatic as a small child, it took me nearly a decade before I consented to visit the Morrill Hall State Natural History Museum to see dinosaur skeletons in real life… because I was absolutely petrified (moreso than the actual fossils at the museum) of skeletons, and by extension, bones in general (even the ones at the center of my chicken drumsticks). Where did I get the idea that any and all dead bones could suddenly come back to life? It wasn't until I was on the cusp of adulthood and started playing tabletop RPGs that I even had a blanket term for this fictional phenomenon – Undead – yet somehow my tiny, young mind came up with the idea of dead bodies and dead minds (ghosts) lingering on to torment the living.

The more superstitious and fallacious amongst us might point to the Ontological argument – quite possibly the stupidest "proof" for the existence of God and the Truth of Christianity any sophist ever dreamed up – noting that my young, fearful mind didn't concoct these terrors, but was tuned-in and aware of them because they actually do exist. But that is what we in the business call BULLSHIT!

Militant atheists might try the opposite angle: That my mind was filled with supernatural nonsense about demons and hell by my Sunday School teachers. I would love to dump on organized religion and blame it for all my problems, but that simply isn't the case here. My old liberal, non-judgmental Presbyterian church never focused on fire and brimstone in the sermons, and the only 'demons' I came to fear and hate in Sunday School were the other boys in my class – a bunch of absolute hellions!

The more rational and even-keeled might point to '80s cartoons as being filled with all manner of supernatural things resembling both demons and the undead: "He-Man" had Skeletor and a whole slew of bizarre villains, whilst "Thundercats" had Mum-Ra, both clearly undead, and both clearly in media targeted toward kids. There were "Real Ghostbusters" and fake "Ghost Busters," and all manner of other bizarre attempts at selling toys and action figures. However, I don't know if I can place blame on these cartoons either, since I was too afraid to watch them. Hell, I even developed a reputation for fleeing the room if I even heard the opening chords of the "Scooby-Doo" theme music – a show whose supernatural nonsense was always proven to be just that in the end.

No, I think, in the end, my fear and loathing of the undead came largely through cultural osmosis. Kids are little information sponges – it's how they learn language and social cues. A half-remembered glimpse of the skeleton battle (a woefully inaccurate rendition of the Spartoi) in the old stop-motion version of "Jason and the Argonauts" here, a TV commercial for a horror movie there… It didn't matter that the Halloween decorations my mom and I put up together consisted entirely of adorable black cats and friendly Jack-O-Lanterns when other people decorated with more gruesome fare. Feed that little bit of data into a spongey, young mind-computer of a child that is still largely operating on human instinct, and what else would you expect?

Yet, even without this underlying fear, I still find Horror to be a bankrupt Genre. Jump-scares that exploit the human nervous system are tiresome. Gross-out gorefests that aim to repulse visually are devoid of meaning and merit. The 'underlying metaphors' behind the schlocky 'Zombie' genre are ham-fisted and banal. Even psychological horror, which aims to be more creepy and unnerving with a slow-burn mystery-reveal at the end, isn't actually 'scary,' and never has been, anymore than the so-called 'mysteries' of cryptids, UFOs, and other similar pseudo-phenomena are 'scary.' Even the young panphobic that I was loved delving into Time-Life Books' "Mysteries of the Unknown" series (once he was old enough to know how to read, of course).

Thus my relationship with Horror forms an interesting dichotomy. When I was young enough and credulous enough to be scared by Horror and its tropes, it was abjectly terrifying and completely un-fun. Now that I'm old, jaded, and cynical, I no longer find Horror scary, but instead find it to be an incredibly weak bucket in which to carry a narrative, commonly requiring an impossible suspension of disbelief to prop-up weak scenarios that wouldn't pass muster in a more interesting genre, like Science Fiction.
Share: