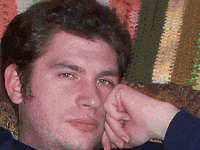 By Nelson Schneider - 09/08/19 at 04:01 PM CT
MeltedJoystick's favorite fur-bearing creature, Chris (a.k.a., Hurto, a.k.a., THEdisgruntleddwarf), has been on a low-carb, low-sugar 'keto' diet for a few months. On this diet, he must refrain from eating most staple foods, which all contain tons of carbohydrates, including bread, potatoes, and rice. While this, obviously, interferes with our weekly gatherings, as it is now like having a kosher Jew or practicing Hindu in the group, who must avoid certain foods (and thus certain restaurants), the results have been overall positive, with Chris losing a little over 20 pounds of pure grease and looking slightly less spherical.

Of course, any restrictive diet is difficult to stick with after a certain amount of time, and, recently, Chris has hit that threshold, with "cheat days" sneaking in more and more often. Nick continually badgers Chris about this, pointing out that a single cheat day will keep him out of ketosis for upwards of a week. I'm more pragmatic about the whole affair, since I know Chris' horrible junk-food diet, consisting of whole bags of stale chips and boxes of Oreos per week, with little-to-no real food involved, was the more active culprit behind his rotundity.

And, guess what, readers?! Science has vindicated me, once again, as a recent story out of Great Britain tells the sad tale of a Bristol teenager who went blind, deaf, and developed brittle bones due to his Chris-like diet. The young man in question, like Chris, had issues with food texture, and thus consumed a diet consisting solely of:

-French Fries
-Pringles
-White Bread
-Processed Lunch Meat
-Sausage

For comparison, before Chris went on his low-carb diet, his daily food intake consisted almost entirely of:

-French Fries
-Chips
-White Bread
-Processed Lunch Meat
-Hamburger Helper/Steak-Umms
-Parmesan Cheese
-Heinz Ketchup (and ONLY HEINZ)
-Chocolate Pudding
-Oreo Cookies
-Vodka

Unlike Chris, however, the British teen's BMI was considered "normal" (though, in my estimation, a "normal" BMI is dangerously thin), so his doctors were at a loss when he complained to them of his poor-nutrition-induced symptoms.

Thus, regardless of whether he "cheats" or not, the Hurto Diet's long-term success has not only helped Chris to lose some weight, but has also staved off permanent blindness and deafness, both of which would make all of Chris' favorite leisure activities impossible. And, personally, I've always found videogaming to, unintuitively, be a great way to maintain weight, as when you've got both hands on a controller, you can't reach into a junk-food bag to stuff your face.
Share: