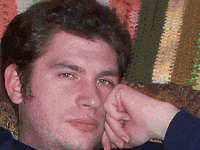 By Nelson Schneider - 09/10/17 at 03:20 PM CT


I've been a fan of the Dorkly YouTube channel's "Pokemon Rusty" webseries since the very first episode, which was posted in November of 2012. For those who aren't in on the joke, "Pokemon Rusty" is a spoof of the original Red/Blue/Yellow versions of Game Freak's "Pokemon," but instead of following the adventures of a competent up-and-coming pokemon trainer as he struggles against adversity to become the very best (like no one ever was), we instead get to bear witness to the world's literal worst pokemon trainer, a bespectacled Jewish kid named Rusty whose Dad wants him to give up on this 'pokemon' nonsense to work in the family deli (Presumably, Rusty would still get to hang out with lots of Delibirds… eh? Eh!?).

Naturally, Rusty doesn't listen to his parents (he is legally an adult at 10 years old, after all), and goes about following in the footsteps of his pokemon idol, Red. Rusty isn't actually malevolent, but his sheer incompetence leads him through more cynical misadventures that result in more trouble than Team Rocket ever managed to accomplish on purpose.

As detailed in the mockumentary spoof, "The Story Behind Pokemon Rusty," the three Dorkly writers who originally came up with the concept and guided it through three season on YouTube ended up getting different jobs in different areas, thus shattering the group and leaving the story of Rusty on a cliffhanger. Fortunately, Dorkly was able to reunite the crew for one final season to bring the story to a dramatic conclusion… which happened this past Spring in May 2017. The results speak for themselves.



Personally, my favorite episode would have to be "EV Trainer," where Rusty encounters a member of that certain breed of 'Pokemon' fan who sucks every last drop of fun out of the game. There's even a theme song!

EV Training!
You're sucking the fun out.
EV Training!
You're too old for this,
Exploiting the game, cause
You don't have a life.
Beating up kids makes you
Feel like a man!
EV Training! YEAH!
Share: