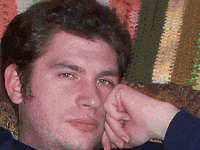 By Nelson Schneider - 03/17/12 at 03:37 PM CT
According to Christian mythology, the risen Jesus yelled, "Noli me tangere!" when one of his disciples tried to touch him to confirm that he was real and not an apparition. Whether you believe that or not, Jesus did get one thing right: Touching is bad.

Specifically, I'm referring to the current trend for every game console, computer, and other electronic gadget to incorporate a touchscreen. While touchscreen gaming began mostly as a Nintendo gimmick with their DS handheld, the fact that Apple hopped on the finger-friendly bandwagon has prompted technology hipsters to proclaim it the BEST. TECH. EVAR., which, of course, has prompted everyone else in the gadget industry to adopt the technology, whether it makes sense or not, just to get their hands on some of that sweet hipster cash.

I admittedly don't have a lot of experience with touchscreen-controlled gaming, simply because my experience with the DS has been so profoundly negative as to turn me off on portable gaming altogether. Touch controls added to classic Nintendo franchises, such as "The Legend of Zelda," gave us "Phantom Hourglass," a game with a control scheme so bad that it caused me to immediately discount the sequel, "Spirit Tracks," when I learned that it would use the same controls. It hasn't been all bad, however, as I quite enjoyed the touchscreen for games in the 'Yu-Gi-Oh!' card battle franchise. So, what's the difference between dragging Link around by the nose with your finger and poking monsters in a Children's Card Game? Suitability.

It seems that touch control on handhelds is the equivalent of motion control on consoles: Nintendo started it, there has been a gung-ho effort to copycat it, and it only improves certain types of games (while ruining every other type of game to which it is misapplied). When are touch controls suitable? When the game in question doesn't rely on fast-paced action or incredible precision. While they have come a long way (a fact that likely accounts for their surging popularity), touchscreens still can't… err… touch… traditional buttons for precision and feedback. Of course, with the widespread reports of the DSlite and its spongy buttons, maybe Nintendo is secretly trying to return to the sloppy and imprecise controls that plagued the original NES.

But Nintendo is no longer the only touchscreen game in town. Now there's Apple's iPad series, trying to take a bite out of PC gaming, and Sony's PlayStation Vita, which boasts not only a touchscreen, but a touchpad on the back. So, out of these three platforms, which company is closest to 'doing it right?'

Nintendo's 3DS features a resistive touchscreen, like its predecessors in the DS line. These screens don't look particularly good, but they have the advantage of stylus compatibility. While most of the Apple-buying hipsters seem to hate styli, I like them quite a bit, as they keep fingerprints off the screen, which is a big problem for me, no matter how often I wash my hands. Besides the screen, the 3DS features a slew of traditional buttons, an analog nub, and an optional second analog nub. It seems that, despite being the instigator of this whole debacle, Nintendo is shying away from adopting touch to the exclusion of all else.

Apple's iPad features a capacitive touchscreen. These screens look great, but use fiddly technology that requires a fleshy probe does the poking (*ahem*). They are also more fragile than resistive screens. And as is typical for Apple products, the things only have one button. Apple's one-button mice (and hockey pucks) sucked back in the day… why do they insist limiting their physical controls to one button? The man who demanded it is dead, they no longer are beholden to him. Removing all but the barest physical controls guarantees that most gaming on the device will be ruined by imprecision. While it is possible to plug-in an external controller with real buttons (at least on Android devices), that defeats the purpose of a tablet as a portable gaming device in the first place.

Sony's Vita with its front and back touch panels seems about as nonsensical as the PS3's SIXAXIS controller. The SIXAXIS was a technological dead end, only implemented a few times as a gimmick, and completely destroying "Lair." I don't foresee the Vita's touch capabilities being utilized very much, let alone offering anything revolutionary. It's copying for copying's sake. But at least the Vita does possess a full complement of buttons and analog sticks.

In all, if the game developers creating media for these three platforms restrain themselves and only implement touch where it is appropriate, I can see it forming a solid and popular niche among the mainstream (much like motion-controlled cartoony sports). But every time I see a touchscreen device playing a game with a virtual d-pad and buttons, I get a sinking feeling that restraint has given way to greed and we're about to enter a new age of sloppy controls, the likes of which have not been seen since the 1980s.
Share: