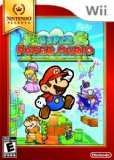 Another Solid Mario Title 5/5 stars
Super Paper Mario's predecessor, Paper Mario: The Thousand-Year Door, was (and is) my all time favorite game, so naturally, I was expecting quite a bit from this game. The verdict, was that it was not as good as Paper Mario: The Thousand-Year Door, but still a superb game, and a solid addition to anyone's gaming library.

One of my favorite things about the Paper Mario series, was the consistently excellent stories, and this was no exception. Though not quite matching that if The Thousand-Year Door, it far surpasses almost any other game that Nintendo has produced. Bowser has another plot to take over Mushroom Kingdom, this time, he's in cahoots with a new villain: Count Bleck. There's a lot to cover, so to make a long story short, Count Bleck has a master plan, Mario has to stop him, there's various plot twists and such, etc. There are many characters that you'll meet on your journey, most of them hilarious. You won't want to skim through any of the text (and there's a lot of it).

The controls work well, with few exceptions. You use the Wii Remote sideways, using the control pad to move. Doors are opened by pressing "up" on the control pad, and talking/reading signs are performed in the same manner. Because opening doors (and the other actions) require using the control pad, you may end up opening a door or talking with one of the characters when all you wanted to do is run to the other side of the room. Also, some of the Wii remote uses (waggling the remote, etc.) are a bit gimmicky, you won't do this often. Overall, the controls are great, with only minor nitpicks.


The music is excellent (all done with video game instruments, not with orchestra), but not nearly as strong as the previous Paper Mario title, and it's not as strong as other Nintendo efforts either. Regardless, there are many pleasant tunes, some of which will stick in your head, others you'll instantly forget.

There's not too much to cover as far as graphics go. Everything is simple, yet clean, and there's lots of color. If you're searching for detailed-Zelda style graphics, you've come to the wrong place, but there's nothing ugly (or particularly stunning) to be seen.

With the exception of a slightly slow beginning (though not nearly as slow as The Thousand-Year Door's beginning), the game moves at a reasonable pace. Gameplay is simple, there are lots of puzzles to solve, etc. My main complaint is when you're fighting enemies.

Unlike in The Thousand-Year Door, enemies are defeated by jumping on them (or using items, etc.), rather than playing in turn based battles like The Thousand-Year Door. Some gamers may delight in this, but one will find that due to this, the game is considerably easier than it's predecessor. In fact, I never had any trouble with any of the bosses (including the final boss), all of them were disappointingly easy. The Thousand-Year Door was much more challenging, and I was terribly disappointed at the lack of difficulty in the enemies.

On the other hand, there are some objectives and puzzles that may stump you, which balances out the lack of difficulty with the enemies.

During the game, you will also utilize "Pixels" that provide various abilities. Also, instead of being limited to playing as Mario, you also unlock Peach, Bowser and Luigi as you progress.

Of course, the most radical change in gameplay is the ability to change from the classic 2-D perspective, to a 3-D perspective, allowing you to uncover secrets, items and enemies that you would have never seen before. To limit you from using this ability abusively, you have (roughly) 10 seconds in 3-D mode before Mario starts taking damage. You regain this damage by playing in 2-D mode. You will be using 3-D fairly often in this game, and I feel it was utilized well (but it does feel a little gimmicky).

You can collect "cards," discover secrets, play in three (yes, three) pits of 100 trials, and of course, there are lots of side-quests.

Though not as great as Paper Mario: The Thousand-Year Door, it's great fun, and a lengthy adventure (around 20-30 hours). There are downsides; easy bosses namely, but overall, this is an excellent game, and I recommend it, highly.